a simple request - Provide affordable high-speed Internet access, in convenient locations. "An Internet Kiosk for those away from home."

It's our job to make it work!
(That's what we do best!)


Why would anybody in the "hospitality" trade let their customers trek across town to find an internet cafe or a public library, just to perform a basic task: checking email.


Similarly for cafés, internet services provide a great reason to go "online" at YOUR place of business; it's an excuse to have a second cup of coffee while catching up on email and the day's news; (or a great way to stretch the concept of "working from home").


Our mission is twofold: To provide a simple, affordable, convenient service to your customers and save you, the location owner, and/or operator the headache and cost of managing and maintaining an internet service.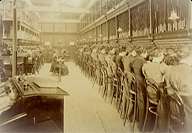 totally turnkey!

The blitzit.net Internet Kiosk is a complete solution including hardware, software, application, installation & maintenance, content, and support.
A complete turnkey operation allows operators to focus on building their business rather than dealing with the complexities of a Internet Kiosk implementation.